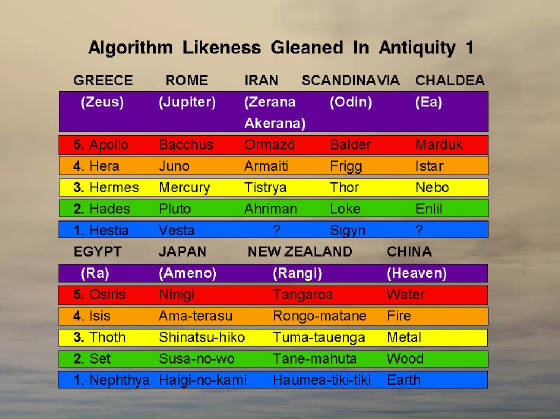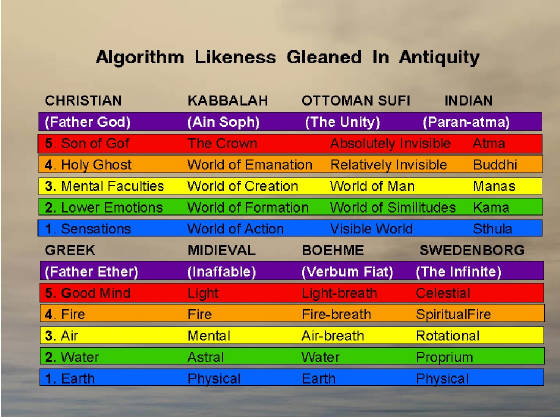 In these tables the Five Planes of Existence are indicated by various symbols found in the Religious Systems of many Nations. The correspondences run horizontally, as per G.A.Gaskell in the Dictionary of All Scriptures & Myths. This author agrees in that all religions are essentially the same and refer to the same facts of being on the higher and lower planes as understood by the Sacred language as within the Algorithm. The Polytheism of the ancients is the same in principle as the monotheism of the moderns becauseof its source.
Thus the great variety of symbols for the same ideas, and in the many allegorical statements conveying the sacred language in personifications, birthing Germ Ideas that are expressed.
The names between the brackets are personifications of the Absolute, representing the Algorithm as a whole known in antiquity and defined as God-unmanifest, while the names on the highest of the five planes indicate Gods-manifest, the Higher Self as likeness to that face of the Algorithm. In some systems the same symbols denote occasionally God-unmanifest or God-manifest, essentially representing the same. The fourth plane, counting from below, is the plane of the Emanation. That part seen in the sky, witnessed by this author's modern experience. This plane is explained as the Holy Spirit, or Great Goddess, and feminine also is the lowest or physical plane. In most religions the highest plane is represented by numerous symbols or sun-gods, the sun being a universal symbol of Creations planetary process by its parts, as understood by Algorithm knowledge. Those parts to Universal knowledge as what the Algorithm represents became personified traversing the Life-cycle or Zodiac. As The Creation Communicae, The algorithm obviously became understood as defining origin to everything definable. Thus its relationship to Humans was noticed, and later defined as the Higher Self.
Each name embodied a power, for example El as a power became Elohim or "The Powers" combined under the dominance of El. Again personifications to the Creative forces as understood in antiquity.